The 6 Best Browser Extension Wallets for DeFi and NFTs
Popular Web3 Browser Wallets for Decentralised Finance
A secure, reliable and feature-rich Web3 Wallet is an essential tool to explore the world of Decentralised Finance (DeFi), so it's vital that you choose the best available wallet to enable your success. This article compares several popular browser extension wallet options to make your evaluation easier.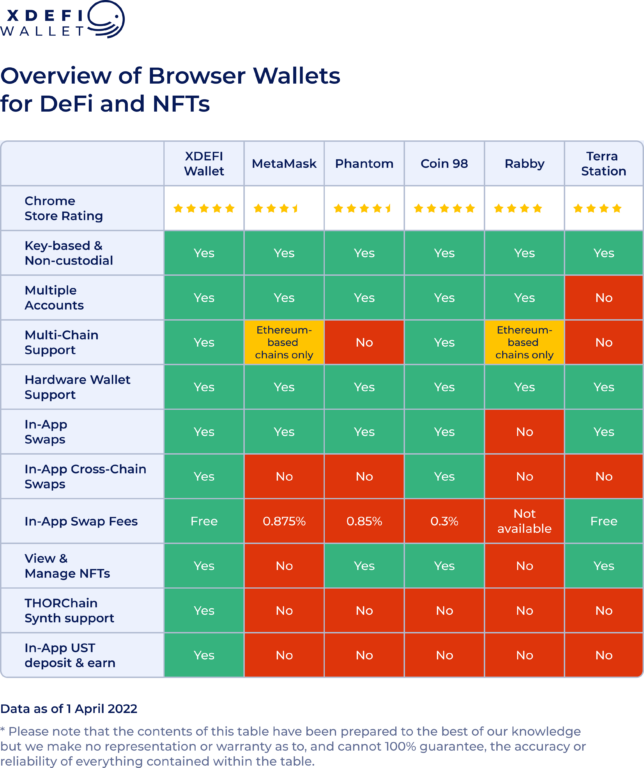 Why You Need a Web3 Wallet for DeFi
The concept of Decentralised Finance (short "DeFi") has taken the world by storm. It quickly evolved from being a niche use case of smart contract enabled blockchains to one of the essential applications of decentralised systems.

Total Value Locked in Decentralised Finance in USD. Source: https://defillama.com/
The value of funds used in DeFi protocols grew exponentially from just about 500 million USD in early 2020 to more than 200 billion USD in 2022. At the same time, hundreds of DeFi projects launched on multiple blockchains like Ethereum, Avalanche, Terra, Solana or Binance Smart Chain.
DeFi empowers a new financial paradigm. Decentralised protocols allow everyone to put their money to work via trading, investing or speculating 24/7/365, independent of age, wealth or social status and without needing a bank account or relying on any other financial intermediary.
To interact with DeFi, users only need an intuitive, secure, and accessible crypto or Web3 wallet that allows them to connect to their DeFi protocol of choice to transfer funds and store crypto tokens.
All DeFi wallets should always be non-custodial, which means users can safely store their funds without relying on third-party institutions to hold their digital assets. Therefore, choosing the right wallet is essential, not only regarding the safety of your funds but also because it will strongly influence the usability of interacting with DeFi protocols regularly.
Key Criteria to Look Out for When Selecting a Web3 Wallet
Selecting the right Web3 wallet to interact with the DeFi ecosystem is of paramount importance. We have already offered you a comparison of popular DeFi wallets based on their essential characteristics. However, it would help to think about some fundamental criteria your wallet should fulfil and question your usage behaviour before making your final selection.
Key-based & non-custodial
"Not your keys, not your coins" is an often-used but powerful phrase in the crypto community. Always ensure that your Web3 wallet of choice uses its own dedicated and unique key pair so that you do not need to trust a centralised custodian. You, as a user, then take responsibility for safeguarding your private keys, typically in the form of a 12-word seed phrase. It's a plus being able to import and export private keys for easier migration between wallets.
Usability
Unfortunately, interacting with DeFi is still not a simple act and often involves research and manual steps. Having an easy-to-use wallet and offering a user-friendly interface helps, especially if you regularly plan to interact with multiple DeFi protocols. If your favourite Web3 wallet allows you to perform specific actions such as swapping of coins, staking, bridging of tokens directly in the wallet, it might save you valuable time in the long run.
Security
The security of your digital assets is invaluable, and you cannot make any compromises on it. Besides storing your private key or seed phrase safely, you can also verify if a wallet has been rigorously audited and immediately address any deficiencies. Additionally, we strongly recommend using a hardware wallet (for example, Ledger or Trezor) in combination with your Web3 wallet, so such support is another necessity you should include in your requirements. Additional features such as auto-locks, revoking permissions, backups and two-factor authentication further strengthen your overall security. We have also published a separate article on the security of browser extension wallets HERE.
Compatibility
A wallet is only helpful if it supports the Web3 applications you want to use it. Nowadays, DeFi is restricted to Ethereum and has expanded towards many other blockchains, but not every Web3 wallet also supports every blockchain or blockchain framework. Many focus on only one or a select few, like EVM-compatible (Ethereum Virtual Machine) or Tendermint-based blockchains (e.g. Cosmos). Beyond that, different wallets might also support only a specific blockchain, like Ethereum but not BNB Smart Chain (BSC), despite being based on the same framework. Using a separate browser wallet for every chain leads to a lot of fragmentation and a bad user experience. Therefore, plan ahead and think about which blockchains are you going to use and consequently check which Web3 wallet supports most of them.
Functionality
A modern Web3 wallet should offer more versatility than just storing digital assets and allowing you to connect to your favourite DeFi protocols. We are a firm believer that wallets will become the main interface to DeFi and the Metaverse, acting both as your identity card and your virtual bank account. And for this to work, you deserve the best possible convenience. Allowing you to swap funds or bridge tokens directly within the wallet, stake their favourite token to generate yield and both view and manage their NFT collection will save you valuable time and increase your overall experience while adventuring through DeFi and the Metaverse.   
NFT support
NFTs (Non-fungible tokens) have entered the mainstream and dominated most crypto news in 2021 and 2022. If you are engaging in DeFi and like to collect or trade NFTs, it makes sense to look out for a wallet that supports both. But also, if you are not interested in digital art or other content bound to NFTs, you might lose out on many opportunities in DeFi as more and more protocols use them for community perks and to tokenise some financial positions. For example, we at XDEFI Wallet ourselves decided to tokenise staking positions as NFTs, as you can read in this article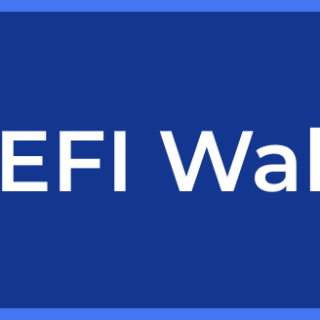 Why XDEFI Wallet?
Easy-to-use and lightning-fast
We constantly improve our user interface and add new convenience features because we know that crypto is complex enough and that our users support the best possible user experience possible. We also integrate the most critical use cases in DeFi, such as permissionless cross-chain swaps, bridging of tokens directly into our wallet as well as "stake & earn" so that you can save even more time. Additionally, our "Ape Mode" on Ethereum allows you to make it in the next block – guaranteed – because sometimes speed is of the essence.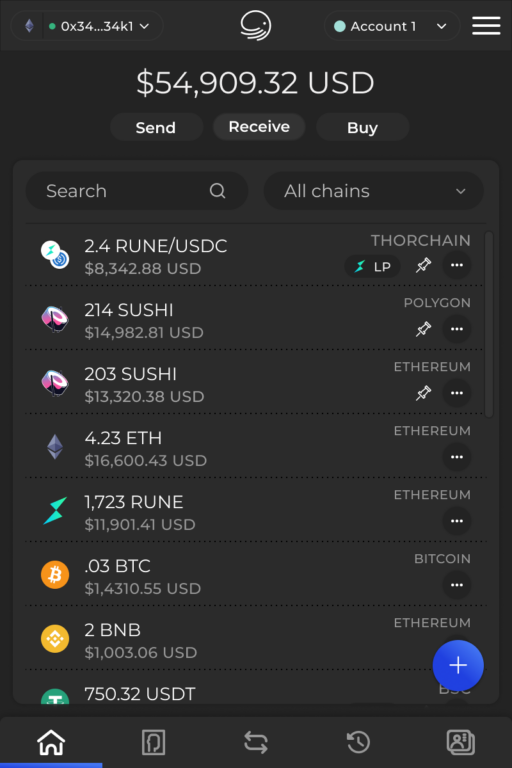 XDEFI Wallet supports all your favourite blockchains.
Privacy and security first
XDEFI Wallet is non-custodial and we never access your funds or your keys or any other personal information. Users are always in complete control of their data and wallet. We want to provide the best possible security for your digital assets without compromising the user experience and ease of use. We always recommend using a hardware wallet for an additional layer of security and therefore added Ledger support. On top of this, we offer advanced security features like auto-locks, two-factor authentication, and easy import and export of keys and configurations. Kudelsky Security has thoroughly audited XDEFI Wallet.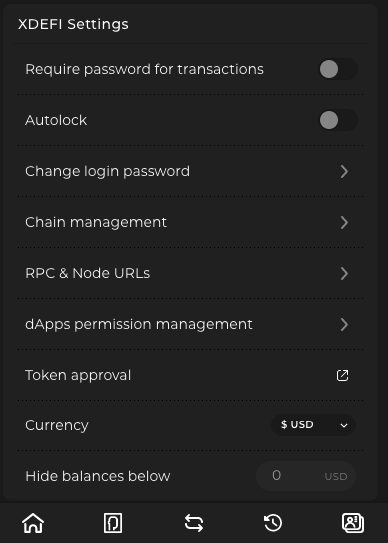 Security-by-design and multiple security-related features help to keep your funds safe.
Built for NFTs
We at XDEFI Wallet are firm believers in NFTs and all the use cases this technology enables. Therefore, users can display and manage NFTs from every chain in a customisable gallery.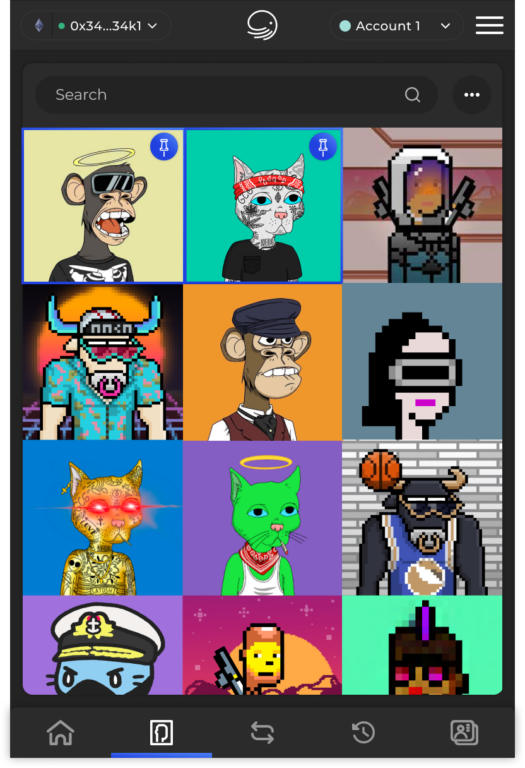 XDEFI Wallet is perfectly suited for NFT collectors and adventurers in the Metaverse
Our community-first approach
Since the first day we exist, we have seen community feedback as the highest priority. We constantly engage with our users on Discord and Social Media and value their input. As part of the XDEFI Wallet community, you can help shape the future of our products. We also offer dedicated 24/7 support for users if they ever encounter an issue with our products.