What is the best Cosmos wallet for 2023?
The Cosmos ecosystem is growing rapidly. More than 50 blockchains, called zones, are already live based on the Cosmos SDK, and the number is still growing. Recent news about improved tokenomics for ATOM coin and the corresponding ATOM coin staking program and native USDC support are additional positive catalysts for Cosmos.
To interact with any Cosmos-based blockchain, users need a suitable crypto wallet. Finding the best cosmos web wallet and ATOM wallet is crucial to keep up to date with the ecosystem and using all opportunities in the broader Cosmos ecosystem.
The success of Cosmos is a big reason that we at XDEFI Wallet decided to add the most important Cosmos-based chains to our wallet, providing the best possible experience to both new and experienced users.
In the following article, we will explain what Cosmos is, how you can use it, and provide an overview of all the best Cosmos wallets available. The following chapters await you:
What is Cosmos blockchain?
What is a Cosmos wallet?
What is the best Cosmos wallet for 2023?
Cosmos wallet features
Summary

What is Cosmos blockchain?
The Cosmos network is not a singular blockchain like Ethereum or Solana but an ecosystem of different blockchains built from the same building blocks from the Cosmos SDK. The Cosmos ecosystem focuses on application-specific chains, called zones, that are highly customisable but still benefit from standardised building blocks.
This goes hand in hand with the widespread thesis that we will see more and more "app chains" optimised for a particular use case in the future. For example, an app chain built for trading would optimise speed. The highly successful perpetual trading protocol dYdX is the latest example of building its independent chain on top of the Cosmos ecosystem. More than 50 different zones are currently interoperable through IBC (Inter-Blockchain Communication protocol).
Examples include Osmosis, Akash, Juno, Kava, Terra, and Secret Network. Each network also features its native crypto asset.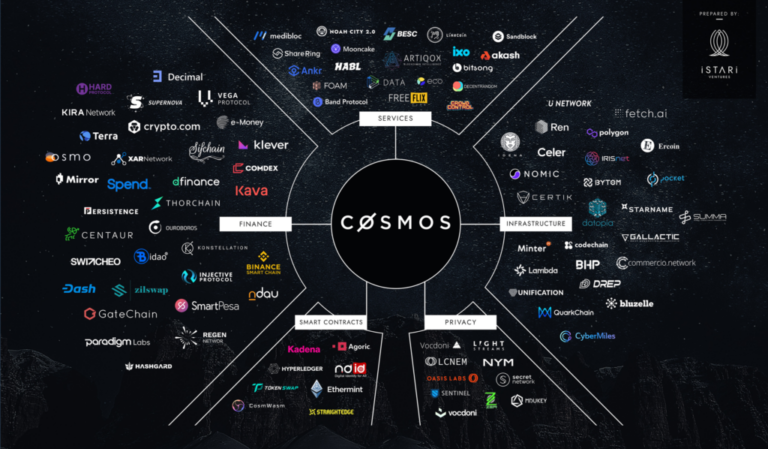 The Cosmos ecosystem. Image source: ittrustcapital
The Cosmos ecosystem is a significant competitor to the Ethereum network. Ethereum is an all-purpose blockchain supporting many use cases, unlike the Cosmos hub. This results in the fact that Ethereum lacks specialisation.
Additionally, Ethereum's low transaction speed (12-second block times) and high transaction fees render many applications, such as high-frequency trading or gaming, impossible.
What is a Cosmos wallet?
Like any other Web3 or crypto asset wallet, a Cosmos wallet helps you interact with Cosmos-based blockchains easily and intuitively. Wallets abstract and simplify the process of handling private and public keys for one's blockchain address. They can be used to easily store, send and receive crypto assets of all supported blockchains.
There are different types of wallets like hardware wallets, desktop wallets, browser wallets, and mobile wallets. All have different advantages and disadvantages and handle the security of private keys differently.
In this article, we want to present the most common cosmos wallets that support ATOM and other Cosmos-based crypto assets. Although you should always do your own research before settling on a wallet, we want to provide you with the necessary information to make the process as easy as possible.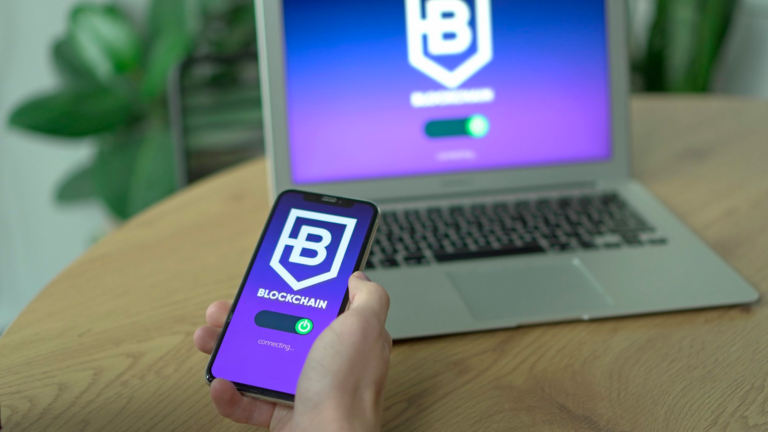 Cosmos wallet: The inter-blockchain universe in your hand
Once you decide on a Cosmos wallet, you can easily interact with more than 50 different blockchains that are already live and part of the broader Cosmos network. As the Cosmos ecosystem is very diverse, you have access to various opportunities, like Decentralised Finance (DeFi), non-fungible tokens (NFTs), trading, and other use cases that focus on privacy or cloud storage.
What is the best Cosmos wallet for 2023?
The following chapter presents the most widely used Cosmos wallets to interact with the Cosmos hub and the various Cosmos-based zones that let you safely store your crypto assets.
Although we at XDEFI Wallet are currently working on integrating the Cosmos network and want to deliver you the best wallet in the Web3 space with support for more than 15 blockchains, it takes us a bit more time to offer this functionality. Therefore, for now, we will focus on all other alternative options.
Ledger Nano X
Ledger is the most widely used hardware wallet, and the Ledger Nano X is currently the company's most popular product. Ledger wallets are known for their superior security as hardware wallets act as cold wallets which means they are not directly connected to the internet (like browser wallets or mobile wallets) and offer less attack surface for malicious actors. Ledger supports most Cosmos-based blockchains, and the Ledger Nano X comes with a mobile application that makes interacting with the hardware wallet very accessible, especially for new users.
As connecting the Ledger Nano X to a decentralised application is not always possible, Ledger wallets can also be used in conjunction with multiple desktop and browser wallets, adding a different layer of security. For everyone looking for the best possible protection, the Ledger Nano X is an excellent choice for a Cosmos wallet.
Guarda Wallet is a relatively new Cosmos wallet for web, desktop and mobile devices. Guarda Wallet focuses on usability, security and privacy and does support not only Cosmos-based chains but also thousands of other assets across multiple blockchain ecosystems. The company does not collect backup files, private keys or other personal data. Although not relying on cold storage like Ledger, Guarda Wallet offers additional security features like two-factor authentication, multi-signature and PIN codes, making it a highly secure wallet to choose from. Guarda Wallet also provides other functionality that is especially beneficial for new users, like directly buying crypto assets and spending coins with their branded VISA card. Guarda Wallet is excellent if you want a beginner-friendly and versatile wallet.
Atomic Wallet is another multi-blockchain wallet option that supports the Cosmos ecosystem and features ATOM coin staking. Atomic Wallet has more than 4 million users worldwide and supports more than 300 crypto assets. Staking ATOM with Atomic Wallet currently provides 10% annual yield (APR). Atomic Wallet's other advantages are its long history and support for multiple blockchains and devices. Unfortunately, Atomic Wallet does not yet support all of the Cosmos zones, making it more suited for people that mainly have exposure to the ATOM token next to other crypto assets that are not part of the Cosmos network.
Trust Wallet is one of the market's most popular pure mobile wallets. Trust Wallet is now part of the Binance family, with gives it additional credibility. Although it is only available for mobile devices, Trust Wallet offers a high range of functionality like NFT wallet support, a dApp browser, staking, and the ability to earn by locking tokens over a specific time frame. Although Trust Wallet has been a proven wallet for many years, it does not offer the same security as a hardware wallet and has the same disadvantage as Atomic Wallet, it just does not support all Cosmos-based blockchains yet.
Math Wallet comes with support for more than 25 zones in the Cosmos ecosystem but also supports other major blockchain networks like Polkadot and EVM-compatible chains. Math's wallet is available for mobile and web and supports hardware wallets such as Ledger. Math Wallet is backed by reputable companies such as Alameda Research, Binance Labs and Multicoin Capital. One of the advantages of Math Wallet is its decentralisation and the support for staking Atom coin and other crypto assets. The downside is that Math Wallet is relatively new and does not yet offer many features. Still, it is a solid option if you want a multi-blockchain wallet that supports many Cosmos zones.
Binance is the go-to platform for many new crypto users and the world's most widely used crypto exchange. Although Trust Wallet is Binance's official wallet product, users can also store their tokens directly on the exchange and access them via the Binance mobile app, desktop product or web interface. This means that Binance acts as a custodian of those assets, and in case of a security breach, you are entirely dependent on a third party.
On the other hand, you do not have to worry about storing private keys and have direct access to the many features of the Binance platform like trading, staking, perpetuals, its launchpad and much more. Binance also supports ATOM coin, the Cosmos hub, and many other Cosmos-based chains, making it a versatile alternative to any non-custodial Cosmos wallet, especially for new users.
Like Binance, Kraken is a well-known cryptocurrency exchange and has been around for many years. Kraken supports many different crypto assets, including Cosmos' ATOM coin. Storing your crypto assets with Kraken (either via their web interface or mobile app) means sacrificing security (trusting a central custodian) but benefitting from high usability and direct access to Kraken's trading platform. Kraken only supports the Cosmos hub and its native token ATOM but lacks the integration of most other Cosmos-based blockchains. The platform offers to stake ATOM coins with yearly rewards of 12-14%.
Exodus Wallet is a multi-blockchain crypto wallet supporting various crypto assets, including Cosmos' ATOM coin. Exodus wallet is available on multiple platforms, including desktop, web browser and mobile, and offers one of the best user interfaces in the market. More than 4M downloads show that many crypto users trusted this wallet. Support for hardware wallets like Ledger provides additional security. Although it only supports the Cosmos blockchain and ATOM as a token, it might be a good choice for you if you do not want to interact directly with other Cosmos zones. Exodus Wallet's staking support allows you to stake ATOM for rewards.
Cosmostation has been one of the first native wallets for the Cosmos ecosystem, making it an excellent choice for users that want to dive deeper into the different Cosmos zones. Cosmostation does not support crypto assets outside the Cosmos network but scores with support for almost all zones based on the Cosmos SDK. Available as a mobile wallet, desktop wallet and browser extension wallet, it allows you to interact with all available decentralised applications on the different chains. It also offers native ATOM staking support. Cosmostation also features a block, network and smart contract explorer as a core pillar of the Cosmos infrastructure. These tools provide you with everything to explore the details of the Cosmos ecosystem.
Cosmostation is one of the most advanced Cosmos-focused wallets in the market. Image source: Cosmos
Cosmos wallet features
Before deciding on the best Cosmos wallet to use in 2023, we recommend checking how each wallet on your shortlist handles the core features to interact with the Cosmos ecosystem:
Private and public keys
Storing private and public keys is the key functionality of any crypto wallet. Although your public key can be shared openly, e.g. if you want to receive crypto assets on your blockchain address, your private key must be protected at all times. Some wallets, especially the custodial ones offered by exchanges, don't offer you access to your private keys, which simplifies the usability but also doesn't offer you 100% ownership of your digital assets.
Seed phrases
Seed phrases are combinations of random words generated by the Cosmos wallet during set-up. They allow you to back up and restore your wallet in case you lose access to your wallet. Make sure the seed phrase is only accessible to you, as anyone that gets hold of it will be able to access your funds.
Cosmos wallet address
Every Cosmos wallet allows you to view your blockchain address per Cosmos zone to share it publicly and receive funds.
Transaction fees
As with any other smart contract-enabled blockchains, all transactions on Cosmos-based chains require transaction fees to be paid by the user. Your chosen wallet should make it easy to view and pay these fees.
Security features
Security is the most important criterion when choosing a crypto wallet. Make sure your wallet offers multiple layers of security (e.g. by using passwords, two-factor authentication and back-ups) including support for hardware wallets like Ledger.
In summary
The Cosmos ecosystem is one of the fastest-growing networks in crypto with more than 50 different blockchains lives using the Cosmos SDK. Not using Cosmos might lead to missing a lot of future opportunities in Web3. As an active user, you have to be able to rely on a superior Cosmos wallet to store your funds and interact with decentralised applications on any Cosmos-powered blockchain. We hope our overview of Cosmos and suitable wallets can help you to choose the best Cosmos wallet suited to your needs.