$XDEFI is an ERC-20 token designed by Delphi Digital. Its main purpose is to create a long-term incentive for ecosystem participants to build into a community and maintain a suite of products around the wallet.
Read on to learn more about the $XDEFI tokenomics.
---
$XDEFI Tokenomics
The $XDEFI token follows a similar mechanism to a veModel token, which is a design originally pioneered by Curve. It allows token holders to stake and select a lock-up period for their token. The longer the token lock period, the higher the APY rewards.
XDEFI generates revenue from swaps (both in-wallet and in our Web App), as well as single-sided staking (Zaps), which is a feature of our Web App.
75% of the net revenue generated from all swaps & staking will be used to buy $XDEFI on the open market. These purchased tokens will be rewarded to token holders who stake $XDEFI.
XDEFI swap fees range between 0.3% – 0.5% .

We do not charge fees on swaps <US$300 in value.
Swaps fees via THORChain DEX aggregator are 0.3%.
Swap fees via other routes are 0.5%  (41% less than the 0.85% charged at MetaMask and Phantom as of 20 Jan 2023).

Single-sided staking (Zaps) fees range between 0.2% – 0.3%.
More XDEFI Wallet and Web App users means higher volume and therefore more swap fees, which should subsequently result in more buying pressure on $XDEFI, and greater rewards for $XDEFI stakers.
Note: in the near-term, $XDEFI staking rewards will continue to be supplemented with funds from the XDEFI treasury.
Additional utility for the $XDEFI token
$XDEFI stakers will also benefit from on / off chain perks such as fee rebates, access to premium features, wallet skins and more.
The designed distribution model allows stakers to own NFTs representing their past positions. These NFTs are called bXDEFIs, which stands for XDEFI Badges.
In practice, $XDEFI is staked and locked up for a given period of time (15 / 30 / 45 / 60 / 75  days). The locked position is a NFT (similar to UniV3), which can be visualised in the wallet and via the staking platform.
Each $XDEFI staking position receives a score ranging from 1 (the lowest)  to 13 (the highest).
The score is determined by the amount staked and the lock up duration.
Score = Amount Staked * Lock Up Duration.
We will provide further information on the utility of the XDEFI badges later in 2023.
---
Token Metrics
Total supply:           240,000,000 $XDEFI
Public sale price:   US$0.65
Initial supply:          40,251,026 $XDEFI
Token Allocation
Ecosystem Fund:       30%
Play to (L)earn:           16%
Public Sale:                  9%
Early Investors:           28%
XDEFI Wallet Team:  15%
Advisors:                       2%
Note: these percentages are approximate and subject to change depending on the size and growth of the team and its advisors as well as the requirements of the Ecosystem Fund and the Play to (L)earn initiatives.
Token Emission Schedule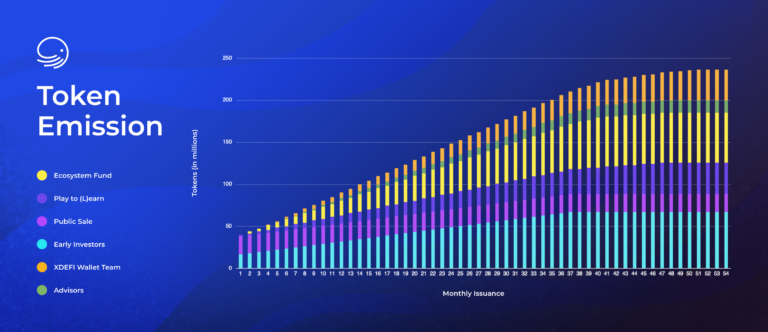 *Note: this token emission schedule is for informational purposes only and may vary depending on the requirements of the Ecosystem Fund and the Play to (L)earn initiative.
| | | | | |
| --- | --- | --- | --- | --- |
| | Price per $XDEFI | Amount Raised | Date Announced | Vesting from TGE |
| Seed | US$0.027 | c.US$1.2M | Mar. 2021 | 25% unlock at TGE and 3 years linear monthly vesting for the rest |
| Private Sale | US$0.25 | c.US$6M | Sept. 2021 | 25% unlock at TGE and 3 years linear monthly vesting for the rest |
| Public Sale¹ | US$0.65 | c.US$8.2M | Nov 2021 | Immediate |
| Public Dutch Auction² | US$1.26 | c.US$11.2M | Nov 2021 | Immediate |
¹ Whitelisted addresses only.  The crowdsale was limited to the first 15,000 whitelisted XDEFI Wallet users, eligible THORChad supporters and ETH addresses with a Degen Score over 250.
²  Public Dutch auction on MISO, Sushi's launchpad.